Hunger Games by Da' T.R.U.T.H.
---
Song Lyrics
---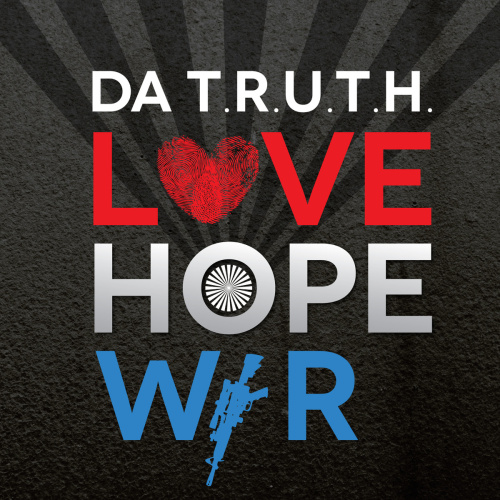 Album: Love, Hope, War
---
(We're always choosing misery because we haven't planned to say no to that second helping, or that drink, or that look in the magazine, or getting out of bed in the morning and so we surrender in the moment to the God of the....)

Verse 1
Coulda been wise, shoulda listened to the prophet,
but ya lil homie told you you should try it 'fore you knock it.
And you did it, you got wit it, and it felt so microscopic,
that's until you tried to quit it and you found you couldn't stop it.
Slave now addicted to the rush. (to the rush)
It's what you crave now, cannot get enough.
You a Christian on a mission and that battle here is tough
and the matter that you grapple with is battlin' with lust. (I know)
Just took another peek into the magazines, (magazines)
dipped another finger in the vaseline, (vaseline)
flesh was on fire, gave it gasoline
and this was just a battle for ya average teen, (haha)
and every human wit a beatin heart.
Every Christian struggles but we pressin just to meet the mark.
Supernatural powers runnin through us cause we need the spark,
but can determine if we Spider Man or Peter Parker. (haha)
And I'm confused now, which one is it?
Losers? Are we Winners? Are we Saints or are we sinners?
And I'm tryna figure out if we victims or we victors,
but I guess it all depends on what you cookin up for dinner. (I'm gone)

Hook
This power's runnin through my veins. (I'm gone)
I can change if I wanna change. (I'm gone)
Temptations drivin me insane. (I'm gone)
Welcome to the Hunger Games.

Verse 2
They say you is what you eatin,
and you really love God, you've been shinin like a beacon,
and you solid, you got knowledge, you been walkin in your freedom,
and you faithful through the week but you be fightin on the weekends.
I know the Christian life's a struggle now.
Friday night is poppin and the city life is buzzin now.
That's about the time you used to call out for another round.
Now you gotta choose between life and the underground.
Feel like you owe it to yourself, don't you?
Sin is magnetic (shhh) when it pulls ya.
Tryna pull away but it keeps pushin,
and you want it bad, but you know it's poison.
You like, "My God I feel so powerless!"
Cryin out to Heaven sayin, "Jesus I know I'm a mess."
Lookin at the hours left, Jesus get me outta this,
cause you know we losin if we try to fight in our own strength.
Screamin: GOD SAVE ME, GOD SAVE ME!
I know I gotta die daily, die daily.
If I need deliverance from gluttony and fine ladies
I know I'm winnin with the strength that God gave me. (I'm gone)

Hook

Verse 3
(Uh) Yea you winnin man, you winnin man.
Victory in Jesus sends you strength into ya inner man.
Yea we give em Jesus when we playin down in WinterJam,
cause we want to help them to come up with a preventive plan. (Yea)
Preparation is the key.
I'm on it, on my diet just the make it through the week.
And man I know that all my strength is gon' be based on what I eat
so then if I deny my belly then I'm faithful when I'm weak.
I'm gone.......

---
Related Video from YouTube
---
---
Song Ratings and Comments
---
---
---
Related Radio Stations
---
---
Related Albums by Da' T.R.U.T.H.
---

Love, Hope, War by Da' T.R.U.T.H. - 2013
---
More Song Lyrics by Da' T.R.U.T.H.
---
---