Star Struck by Da' T.R.U.T.H.
---
Song Lyrics
---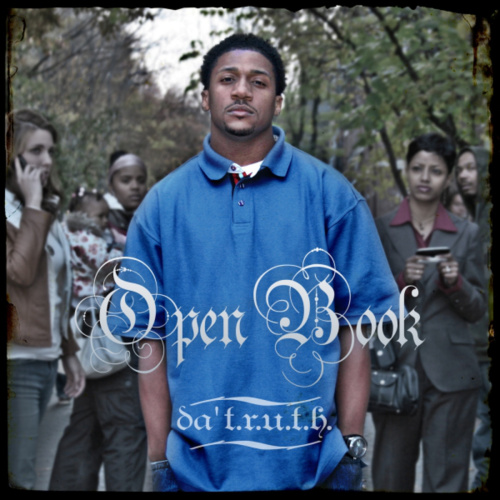 Album: Open Book
---
LIVE IN AWE
Colossians 1:15-20, John 3:30-31A & John 1:27

Hook
That's…Why
That's why—we—why
That's why—we—why
That's why—we—why
That's why—we

Verse 1
Big J, big E, big S capital; Big U, big S, big C capital/H-R-I-S-T all capitals/That figures when you're talking about a king that's apropos/Yea I never tried to use rap to catapult myself up to the forefront/Never did it for capital/ I ain't even gonna front/ Of course I've been grapplingOn who should get shine/ Jesus Christ or I?/ But I'm just an average Joe/Jesus Christ is God/ Rise above the status quo weeding out the crowd/Go put on my hat and coat/ It's freezing outside/ In this cold (cold) world
Competing for God's child

Hook

Verse 2
Big J, big E, big S period/ Big U, big S, big C period/H-R-I-S-T man period/ I know I'm name dropping but Christ is superior/To all stars no flaws, no faults, no wrongs, no courts/ Christ is alive/And if I wasn't a disciple and I wasn't in the Bible/ A certain rapper would probably be my idol of course/ I would be off course/ Big chains, big dreams/ big things/ Extremely divided like split screens/Between esteeming the Christ; as king/ Am I a portion or pushing Him out to get things/ That's why

Hook

Verse 3
Big J, Big E, Big S in stereo/ Big U, big S, big C in stereo/H-R-I-S-T man in stereo/ You lose when you choose that which is inferior/Imperial King on the throne/ Either love Him or leave Him alone/But you can't do both, it's either or/ The lamb or the lion that roars/Son of Man or the rider on the horse/ Much more than a product in a store/Choose ye this day or see the hand that is writing on the wall/No, He's not common at all/ All eyes on Him/Hold your jewels, we gotta priceless gem/Who else can pay the price for sin/ Nobody, and build a whole body/Like a private gym/ Nobody, nobody but Him/He's Superman but godly, embodied in Clark Kent/ yeah, He came to save the day/ Why would you trade Him to play/ In a crooked world that is fading away?/ Candy paint and wood grain decay, ok?/ But Christ will never fade, Man, He came to stay/ So never mind ballin', He balls greater/No better time to call Him, He's far greater/ The planet and the stars, that's His wallpaper/ The Father's open book, Man/ No false data, let's read

Hook

---
Related Video from YouTube
---
---
Song Ratings and Comments
---
---
---
Related Radio Stations
---
---
Related Albums by Da' T.R.U.T.H.
---

Open Book by Da' T.R.U.T.H. - 2007
---
More Song Lyrics by Da' T.R.U.T.H.
---
---