Never Heard Anyone by Shirley Caesar, Darwin Hobbs
---
Song Lyrics
---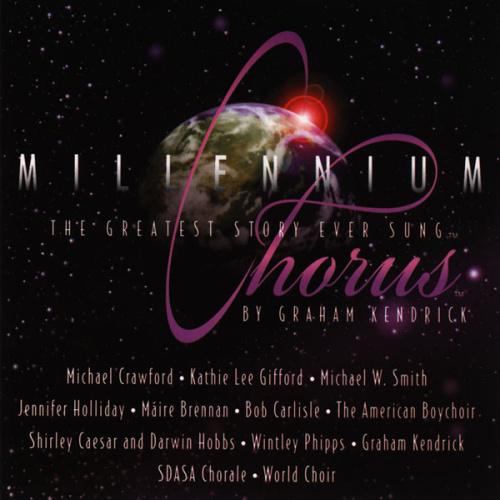 Album: Millennium Chorus
---
Heard anyone?
Never heard anyone?
Heard anyone speak like this?
Never heard anyone speak like this!
Never heard anyone speak like this!
Never heard anyone speak like this!

Like a burst of sunlight
Into a darkened room
His words lit up a nation
In misery and gloom
Now he's on the streets announcing
It's time to change our ways
That love is the new order
About to rule the day

Never heard anyone speak like this man
Never heard anything like it
Never heard anyone speak like this man
Neaver heard anything like it

Doesn't give opinions
Or stop to ask the way
He knows just where he's coming from
God told him what to say
The lame are buying brand new shoes
The sick are feeling fine
There are stories about a wedding
Where he turned water into wine!

Chorus

A word can light up blind eyes
Make a demon run
A word can break up a funeral
Give a mother back her son
Forgive a broken sinner
Calm a storm at sea
Change a life forever
With just two words - 'Follow me'

Chorus

I saw him on the mountain
Like a Moses from above
Teach his new commandment
Explain the laws of love
Such goodness is unheard of
Unbelievable to some
But somehow when we looked at him
We knew it could be done!

Chorus

He goes around forgiving sins
Who does he think he is?
Let's make him King
Get rid of him
No good will come of this Messiah!
Blasphemer!
He thinks he's God's son
We really cannot stand for this
Something must be done

Chorus

They say he is a heretic
Demonised and bad
How does he do these miracles
If he's a criminal or mad?
The police tried to arrest him
It seemed to take all day
When they came back empty-handed
All that they could say was...

Chorus

He says 'Love one another'
He says 'Love your enemies'
But I didn't know 'Til the day
I heard him say Lazarus come out!

---
Related Video from YouTube
---
---
Song Ratings and Comments
---
---
---
Related Radio Stations
---
No radio stations found for this artist
---
Related Albums by Shirley Caesar, Darwin Hobbs
---
Millennium Chorus by Graham Kendrick - 2000
---